ent Canvas Fabric - Natural This item is not fire retardantWATER REPELLENT-MILDEW RESISTANT AS LOW AS: $ 6.95/yd.
Sold in continous whole lineal yards only. Each quantity ordered equals 1 lineal yard.
(1 yard = 36" or 3 ft.)
(1 lineal yard of this item = 60" x 36")
Maximum Roll Size is 100 yards
1-15 yards of this fabric may be folded. 20+ yards will be shipped unfolded on a roll.
Other Available Widths: (60")
BUY IN BULK AT THE ABSOLUTE LOWEST FACTORY DIRECT WHOLESALE PRICING!
For orders of more than 100 yards, please contact us for even deeper discounts and custom shipping quotes.
Our 10.10 oz Army Duck also known as "shelter duck" is a medium weight multi-purpose canvas with a very tight, plied yarn weave construction making it very strong and resistant to tearing. Army Duck is loomed using smaller yarns creating an ultra smooth texture perfect for canvas wall tents.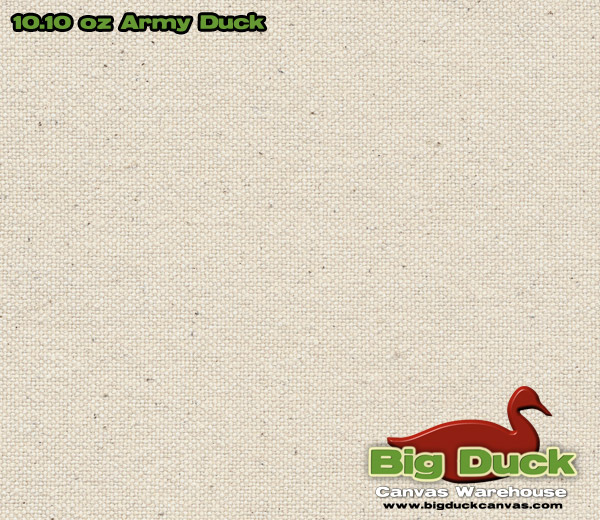 All cotton canvas fabrics are not the same. Our fabrics are inspected and are given a grade "A" rating while others may be selling "B" grade or even factory seconds. It is our goal to build long lasting relationships with our customers and provide the highest quality materials at the lowest prices.