We get it. You have questions about the process of ordering your canvas and fabric online from Big Duck Canvas. Whether you're new to Big Duck Canvas or are a long-term customer, we've answered these commonly-asked questions with the intent to provide clear information and set honest expectations. Your satisfaction is our number one priority!
Q: How do I receive samples?
A: We would love to send you samples of our beautiful fabrics! On our 'Samples' page, just answer a few questions and we'll get them right out to you. It's really simple, but there's a 'how to' video … just in case!
Q: How long will it take to receive my order?
A: Every order is custom, and to ensure accurate handling of each order, normal processing time—pulling your fabric/material from the warehouse, cutting it to your specified length and packaging—is generally 2-3 business days. Of course we work hard to get your order to you as quickly as possible and sometimes processing time is notably shorter! Transit time depends on your location and service you have chosen.
Please see Shipping and Returns for more details.
Typical UPS Transit Times: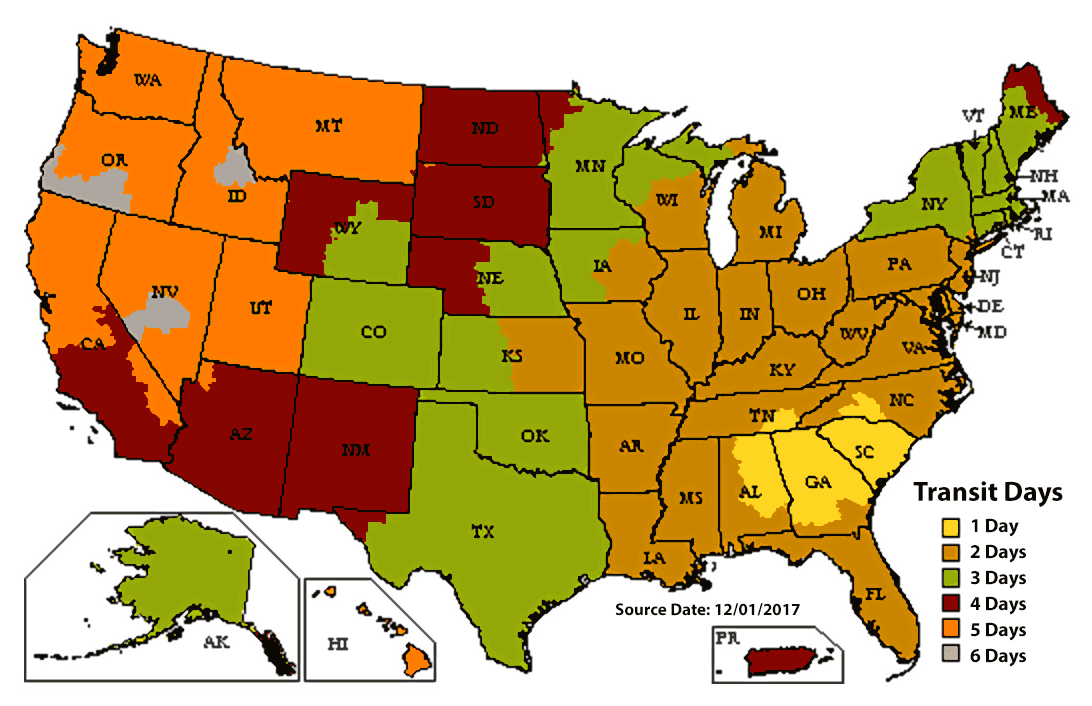 Q: Can you ship my order out same day?
A: Yes! To help meet your deadline, we offer a "Rush Order" service. Give us a call before 2:30 ET to request a Rush Order to have your order shipped the same day. Rush order fees are 15% of your order total (minimum $25) and are non-refundable. Please Note: Choosing an expedited shipping method (NEXT DAY, 2nd Day Air, etc.) is not the same as a Rush Order.
Q: What is your return policy?
A: Big Duck Canvas wants you to be satisfied with our service and merchandise. If you are unhappy with any product you receive from us, you may return unaltered item(s) within 30 days. If your order is lost or damaged, please contact our Problem Resolution Department at 1-800-704-6138, ext. 2.
If you receive a product that is damaged, incorrect or defective, please contact our Problem Resolution Department as soon as possible. Return freight on problem orders must be coordinated with a member of our Problem Resolution Team and cannot be refunded otherwise.
IMPORTANT:
Any product that has been WASHED, CUT or ALTERED in any way, cannot be returned.
Products sold as "Seconds" or "Factory Seconds" may not be returned.
Returns are subject to a 15% restocking fee.

Once approved, returns should be sent to:
Big Duck Canvas
Attention: Returns Dept
88 Griffith Street
Winder, GA 30680
Q: What are your payment methods?
A: We accept all major credit cards: American Express, Visa, Mastercard and Discover. We will also accept check by mail but please note your order will not be processed until after your check has cleared. Wire transfers are required for large value orders and orders over $500 that are shipping outside of the USA or Canada.
Q: Can I pick up my order or come in to see samples?
A: Yes! Our offices are located in our warehouse and distribution center at 88 Griffith Street, Winder, GA 30680. And while it's not a 'showroom' you're welcome to come in to view samples and pick up your order. We are open Monday–Friday 9 am – 5 pm. Please call 1-800-704-6138 before your visit to ensure that someone is available to provide consultation when you arrive.
Q: Is there a minimum order?
A: Generally, no, there is no minimum order on almost all of our products. Subject to change, exceptions include any canvas/fabric products that are 120" wide or wider and 10 oz. Lime Green Duck Cloth.
Q: Will sales tax be charged on my order?
A: There is no tax on orders outside the state of Georgia. Sales tax is collected on orders in the state of Georgia unless you have a valid resale certificate or tax ID number on file with Big Duck Canvas.
Q: Do you ship outside of the USA?
A: Yes! We ship worldwide. If you are located in Canada check out our discounted brokerage rates below.
CANADIAN AND INTERNATIONAL SHIPPING
All Canadian and International shipments are subject to brokerage fees, taxes and duties. These fees are the responsibility of the customer.
UPS BROKERAGE FEES
| | |
| --- | --- |
| Order Total | Brokerage Fee |
| $0–$20 | FREE |
| $20.01–$200 | $4.00 |
| $200.01–$1,000 | $25.75 |
| $1,000.01–$2,500 | $35.00 |
| $2500.01 + | $51.50 |
Q: Will my fabric come in continuous yardage?
A: Yes! All fabric will come in continuous yardage lengths. However, please note all MAX roll size on each product in the specifications box. If for any reason this is not possible, we will contact you prior to processing your order.
Q: Can you cut fabric into specific lengths for my project?
A: Yes! We are happy to offer a cutting service. The fee for custom cuts depends on your requirements. We're more than happy to quote on custom cuts; give us a call at 1-800-704-6138.
Q: What should I do if my order hasn't arrived yet?
A: First, check your tracking number. This will be emailed to you as soon as your package ships. Next, if there is an issue with your shipment please contact out problem resolution department at 1-800-704-6138 ext. 400.
Q: What size are you sample swatches?
A: Most of our samples are approximately 4"x6". If you need a larger piece for sampling, please contact our sales department at 1-800-704-6138.
Q: Can Big Duck Canvas custom dye fabric?
A: Yes! We offer custom fabric color dye lots starting at a 500-yard minimum. Please call our sales team today at 1-800-704-6138 to learn more about pricing and lead times for your custom-color fabric!
Q: What is a factory second?
A: A factory second is a "second quality good" meaning that there may be flaws, blemishes, seams or noticeable dye lot (color) variations from one roll to the next. This can be purely aesthetic, such as a smudge or stain on the fabric, or it can be an issue with the actual weave such as a mis-woven yarn or small tear. It's important to consider these possibilities when purchasing second quality and to account for this when buying yardage. If you need a large quantity of fabric without these types of inconsistencies, call us at 1-800-704-6138 and speak with a sales representative to see if the factory second you're looking to purchase will work for your project. For smaller projects, factory seconds can be a great bargain as potential flaws often can easily be worked around!
Q: Where's my refund?
A: We want you to be happy with your purchase, and we understand that not every purchase works out as planned or sometimes changes need to be made. If an exchange is not the answer and a refund is warranted, allow 24-48 hours after receipt and inspection of returned merchandise. Please remember: We cannot accept returns or offer refunds for any material that has been washed, cut or altered in any way, and all "seconds," "factory seconds" and discounted fabrics are final sale!
Q: Why can't I use my coupon code?
A: At Big Duck Canvas, we occasionally run a coupon or special offering for our amazing customers! If you have joined our email list, you will periodically receive communications regarding special buys, discounts, or other promotional items. If a coupon is required to take advantage of the promotion, you will receive a coupon code which must be entered during the checkout process in the box marked "Promo/Gift Certificate." After entering the code, click the "Apply" button and you will see the appropriate discount applied to your order.
Important Note About Coupons:
We are unable to apply coupons to any previous order. Refunds will not be provided in lieu of forgotten or unused coupon codes. Coupon codes have no actual cash value. If you have questions or concerns about a promotion, please contact our Customer Service Department at 1-800-704-6138.