Yes ... we ship to Canada!
See our updated UPS information below to save or eliminate brokerage fees.
Shipping Rates
Shipping costs are based on weight and are carrier specific. For estimated shipping quotes, add products to your shopping cart and click "View/Edit Cart." Then enter your details: country, state, postal code.
Large Order Shipping/Freight
Please contact us at 1-800-704-6138 for freight shipping quotes on large orders.
Order Processing
Orders normally ship in 2-3 business days, excluding weekends and holidays, subject to product availability. Please be sure to order in time to allow for processing and delivery. We are not responsible for missed deadlines. (What is order processing? At any one time, we are typically handling hundreds of unique, custom orders. Each order must be pulled from the original roll(s), measured, packaged, labeled and processed for shipping.)
Regular Shipping vs. Expedited Shipping
Whether ordering online or by phone, you can choose the shipping method/time that best suits your requirements. PLEASE NOTE: Choosing an expedited shipping method (Next Day Delivery, 2nd Day Air, etc.) reflects the delivery time; that is, from the time your package leaves our warehouse until you receive it. The normal processing time still applies.
Does your project require super-fast turnaround and delivery? We can help! Please read on...
Rush Orders
If your order is time sensitive, call us at 1-800-704-6138 to discuss rush service availability. Rush orders can ship out the same day, however you must call to verify availability and place your order before 2:30 pm (ET). Rush order fees vary depending on the amount of the order and certain other factors, and are non-refundable. PLEASE NOTE: Choosing an expedited shipping method — Next Day Delivery, 2nd Day Air, etc. — does not constitute a Rush Order; standard order processing times apply to orders that are not 'rush orders.'
Business to Business (B2B) Orders
Large quantity orders may require additional processing and shipping time. If this applies to your order, we will contact you. As a reminder, businesses may apply for a B2B line of credit/30 day terms.
Signature Required?
Most orders shipped with UPS will be delivered without a signature. A signature is always required for 'higher value orders' and all orders shipped by Freight. Otherwise, if you require a signature on your delivery, please contact us when ordering.
IMPORTANT: If for any reason your order is 'undeliverable' and is returned to us, you are responsible for the cost to re-ship to order to you.
UPS Ground Transit Times
Shipping transit times are calculated by business days and exclude weekends and holidays.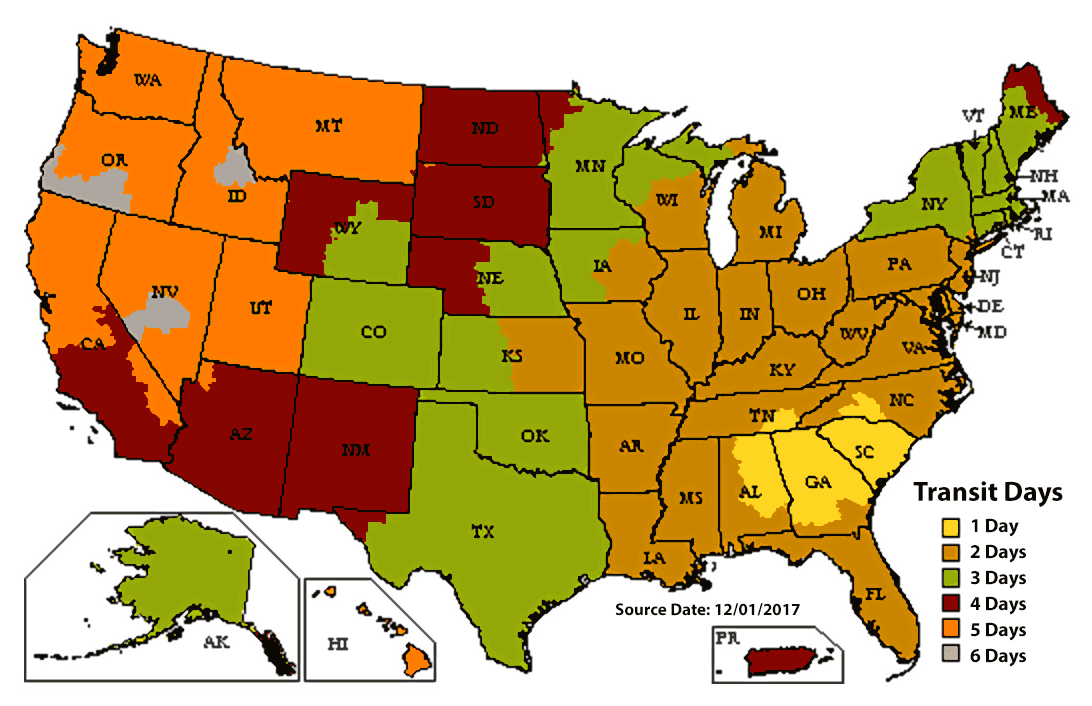 Tracking and Order Status
With most orders, you will receive an order status email with tracking information. However, due to the nature of how certain (typically larger) orders are processed, tracking numbers and order statuses are not always automatically updated. Please allow six (6) business days to call about the status of your order.
Canadian and International Shipping
All Canadian and International shipments are subject to brokerage fees, taxes and duties. These fees are the responsibility of the customer.
UPS Brokerage Fees
| Order Total | Brokerage Fee |
| --- | --- |
| $0–$20 | FREE |
| $20.01–$200 | $4.00 |
| $200.01–$1,000 | $25.75 |
| $1,000.01–$2,500 | $35.00 |
| $2500.01 + | $51.50 |
Returns
(No Returns on Cut, Washed or Altered Goods)
Big Duck Canvas wants you to be 100% satisfied with our service and merchandise. If you are unhappy with any product you receive from us, you may return the item(s) within 30 days. Inspect your order immediately upon arrival.
If you receive a product that is damaged, incorrect or defective, please contact our Problem Resolution Department as soon as possible. Return freight on problem orders must be coordinated with a member of our Problem Resolution Team and cannot be refunded otherwise.
IMPORTANT:
Any product that has been WASHED, CUT or ALTERED in any way, cannot be returned.
No returns on products sold as "Seconds" or "Factory Seconds."
Returns are subject to a 15% restocking fee.

Once approved, returns should be sent to:
Big Duck Canvas
Attention: Returns Dept
88 Griffith Street
Winder, GA 30680
Replacement Orders
If we shipped you an incorrect product or the product was damaged in transit, we'll pay the return shipping cost. Otherwise, you are responsible for the return shipping cost. A replacement order will be sent out when your previous order label has been received and scanned by UPS. Returns are subject to a restocking fee of 15%.
Freight shipping costs cannot be returned unless we have shipped the incorrect goods.
For international or freight return questions, please contact customer service at 1-800-704-6138.
Missing or Damaged Shipments
If your order is lost or damaged, please contact our Problem Resolution Department at 1-800-704-6138, ext. 2
Order Cancellation
Once an order is placed, there are several steps involved in processing and fulfilling it, and once an order is 'in process' it cannot simply be cancelled. However, if for any reason you need to cancel a very-recently placed order, contact us for options. Orders that are already being processed, if cancelled, are subject to a 15% cancellation fee.
Fabric Swatches
Fabric swatches cannot be returned for a refund or store credit.